While at school, student access to the Internet is managed by the School District of Waukesha, using measures that comply with the
Child Internet Protection Act
.  While at home, this responsibility, as well as the responsibility of monitoring access to other inappropriate or undesirable apps or content on the device is the responsibility of the parent/guardian.
Adding Internet Filtering to Your Home Network
ISP Based Content Filtering
Many internet service providers have content filtering available on their service. Most also have directions for setting up your routers to provide content filtering. Be sure to check whether the filtering works only on connected devices or is available for wireless devices. It is also important to check which type of devices are being filtered. Contact your ISP or visit their website for more information. 
Open DNS Content Filtering
One site that offers free filtering for home users is 
Open DNS
. Their filtering works on a majority of devices, connected or wireless, including the iPad.
The video linked below demonstrates the power and ease of use for 
Open DNS
.
Google Safe Search
By enabling SafeSearch, you can filter out most of the mature content that you or your family may prefer to avoid. If an inappropriate result does sneak through, you can report it to Google. They are always working to improve content filters, and this kind of feedback can help make SafeSearch better for everyone.  To learn more about setting up SafeSearch on a Google account,
visit this link
.  
To learn how to set up SafeSearch on an iPad or other iOS device,
visit this link
.
---
Managing Access to Content on the iPad
Adding Restrictions (Parent Controls) to an iPad
Setting Restrictions on the iPad is an opportunity for parents/guardians to personalize the use of the iPad to meet your family's personal comfort level related specifically to access of both apps and content.
You can enable Restrictions, also known as parental controls, on iPhone, iPad, and iPod touch. Restrictions stop users from using specific features, applications, and content that the family deems inappropriate.  By maintaining secure possession of the Restrictions passcode set by the parent/guardian, parents/guardians can feel more comfortable that their son/daughter won't have access to some of these resources/content on the iPad no matter where they are (home, school, or any other location).
Learn more about the types of Restrictions and how to enable or disable them on your child's district issued iPad. Click here for a
guide on iOS Restrictions
from Apple.
To view a video tutorial on Setting Up Restrictions on the iPad, view the video below.
Using Restrictions to Filter Web Content
Using the Restrictions (Parental Controls) on the iPad, parents/guardians can add additional web filters to the content accessed via the Internet.  The video below demonstrates how to set these Internet filtering restrictions on the iPad via the Restrictions panel.
Additional Restrictions Information
The videos connected here offer additional information regarding setting restrictions on the iPad. These were the presentations shown at the elementary schools with additional information for summer take home.
English
En Espanol
Be Aware of Browsers That Do Not Support Content Filtering
The Safari browser comes pre-installed on the iPad for browsing the Internet.  It serves most browsing needs and in most cases there is little need for an additional Internet browsing app to be installed.  Safari is tied directly to the Restrictions settings on the iPad, meaning that it generally cannot bypass those restrictions settings.

Other apps/browsers available in the App Store are designed specifically for the purpose of overriding restrictions or bypassing content filters (at home, school, or anywhere else).  These types of apps provide direct access to content that may be otherwise filtered through the general practices outlined above.  Examples that are popular today are apps such as the Puffin Browser, Proxy Browse, and Pixy, to name just a few.

As a parent/guardian, it is STRONGLY recommended that you control app installation on the iPad your child has been assigned.  This is best achieved through knowing and keeping secret the Apple ID password.  Additionally, parents are encouraged to review app purchases/downloads and develop an understanding of what the app is used for prior to purchasing/downloading it to the device.
Apps such as these are constantly being developed and available for download.  It is impossible to list or know all of these types of apps.  It is generally recommended that prior to installation/download of an app, parents/guardians do a bit of research, look at the company's FAQ section of their website, or contact the company directly.  Knowledge about what an app does and how it will be used will provide greater comfort to parents/guardians that the content their son/daughter accesses matches their preferences as a family.
---
General Internet Safety
In an era where access to digital tools is nearly ubiquitous in all areas of our lives, becoming an informed, careful user of electronic resources is important for both adults and children.  
Internet Safety Tutorial
The
Internet Safety Tutorial
, a free resource available from the Goodwill Community Foundation, offers a great place to start to learn about a wide variety of topics on general Internet Safety.
Visit Common Sense Media for Parental Tips!
A great collection of resources and answers to questions that parents might have about the internet.
---
---
Articles for Review
Kids' Internet Safety Starts At Home
If you're a parent who feels like your kids' Internet browsing habits take place in another world, you're not alone. Children's familiarity with the Internet can leave some parents feeling helpless to police what their tech-savvy children are seeing on the computer.
But studies show that American kids are now spending up to an average of 40 hours per week using electronic media, with up to half that time on computers.
Researchers are just beginning to figure out the implications of all that screen time. Pornography and sexual predators are some of the most obvious and disturbing potential threats.
But relentless marketing, an increasing prevalence of online junk food advertising, and the sedentary nature of computer use itself may pose an even bigger risk to the average kid's overall health.
That's especially true for younger children. "Kids [between 5 and 11] are very concrete in their thinking. They're going to see things on the Web and think they're written in stone," says Richard Lerner, a Tufts University researcher who studies media effects on children.
The National Task Force on Children's Safety held a forum this week on Capitol Hill that included several Hollywood actors, including Tim Daly and Joe Pantoliano of HBO's "The Sopranos." The task force, which was started by several members of Congress along with Safety4Kids and the Creative Coalition and includes leaders in entertainment, education, the media, and in Congress, offered some simple advice on how to guide your child's online life.
Be there when your kids are online:. Most kids today begin using the Internet by the time they're 6 or 7 years old. "Whatever they show interest in is fine, as long as you're there," says Lisa Bain, executive editor of Parenting magazine.


Take computers out of the bedrooms: Putting computers in public parts of the house is key to being present in your kid's online experience. "Why not have it in the kitchen where you're cooking dinner so you can supervise which sites they're going to," says Carl Baum, an associate professor of pediatrics at Yale University.


Don't just watch your kids surf: Talking to your kids about what they're seeing online will help everyone, including you, understand better what you're seeing. Your child may be more tech-savvy than you, but don't let that intimidate you, says Frank Gallagher, education and media literacy director at Cable in the Classroom, an industry-sponsored nonprofit group. "You're not there to help them figure out which buttons to push, you're there to ask them questions," he says. That will also help arm your child with the judgment to surf more safely when you're not around.
Consider using a Web filter: There are lots of Internet filters designed to keep kids away from harmful online content. Most are geared toward avoiding sexual content and may or may not weed out aggressive marketing.  Also see OpenDNS Home Solutions.


Get media literate yourself: Pornography and sexual predators are relatively easy for parents to spot. But protecting kids from other negative influences, including unhealthy food, unhealthy attitudes, and aggressive marketing means being able to identify those things yourself. "It really starts with the family. You can't have media literacy unless you have parents' literacy," Lerner says.


Concerned about your kids? Join the WebMD Parenting community.

By Todd Zwillich
Reviewed by Louise Chang, M.D.
? 2007, WebMD Inc. All rights reserved
© 2007 WebMD, LLC.. All Rights Reserved.
\
---
---
---
How to Block "Adult Content" on Your iPhone, iPad & iPod Touch
posted by Elizabeth Harper on April 28, 2013


Thinking about letting your child or teen borrow your iPad or giving them your hand me down iPhone? Just like with a PC, your big concerns is probably keeping them away from inappropriate content. But an Apple product is a great choice because of their solid parental controls and the company's strong stance against pornography—Steve Jobs once suggesting that the company had a "moral responsibility to keep porn off the iPhone."
We'll walk you through where your youngster might be able to find inappropriate content on an Apple iOS device, as well as the tools Apple provides to keep them out of it.
Where do I have to watch out for adult content?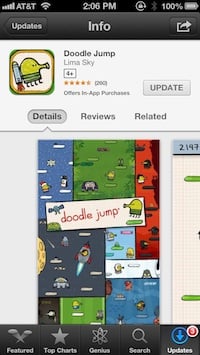 Apple's app store is carefully curated: Apple approves every app that goes live to make sure it meets their standards, and even Playboy Magazine's iOS app doesn't feature any nudity. Each app also features an age rating prominently displayed under the app name, listing who the app is appropriate for: ages 4+, 9+, 12+, or 17+. Of course your definition of what's appropriate may not match Apple's, so you'll still want to review any apps for content, but this at least gives you a guideline.
However, Apple's stores for books, music, movies and television are far less policed, offering an open market of commercially available content. You can find anything here that you might find on the shelves of a store, including R-rated movies and songs with mature lyrics.
Where you have to be most wary, however, is the Internet. Both the iPhone and iPad have access to the Internet, and a world of content is open from a web browser or YouTube search—not all of it appropriate for young audiences.
So what can I do about adult content?
iPhone content controls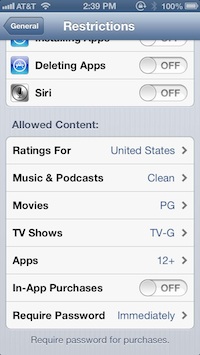 Having a secure password for the iTunes account the iPhone or iPad uses—one your child doesn't know and won't guess—will prevent them from installing paid apps, purchasing movies or music, or making in-app purchases. However, bear in mind that if you've entered the password to buy something, there's a 15 minute window where you can make additional purchases without entering your password again—so don't hand your phone off until that time has passed. This is the most basic line of defense against inappropriate content, and you should make sure you have a good password for your account even if your child doesn't often use the device.
You can change your Apple ID password by heading over to appleid.apple.com, clicking on Manage Your Apple ID blue button, signing in, choosing the Password and Security option and then clicking on the Change Password link.
If the iPhone or iPad is primarily going to be used by a youngster, you can lock the device down using iOS parental controls. To get started, just go to Settings > General > Restrictions and select Enable Restrictions. Once restrictions are activated, you'll be prompted to enter a 4-digit passcode—again, make sure it's something your child doesn't know and can't guess and that it isn't the same as the 4-digit code you use to unlock the phone. From here, you can disable the use of a number of applications as well as preventing access to music, podcasts, movies, TV, apps and books by ratings.
Blocking non-Apple programs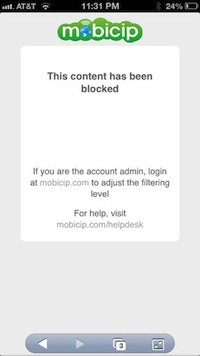 However, your iPhone or iPad may have non-Apple applications on it—like Facebook, Twitter, or Chrome—that access the Internet and could allow your child to view inappropriate content. If the device is just for the child's use, we advise not installing any applications that allow Internet access and being sure to disable the ability to install applications.
If you want your child to have moderated access to the internet, you can download a kid-friendly browser that lets them get on the web but keeps them away from inappropriate content. Our favorites are Mobicip Safe Browser (free on iTunes)  and Ranger Browser Safe Browser (free on iTunes). Then you need to turn off the Safari browser and prevent installing a new browser app in the "Restrictions" menu under "General" in the iPhone Settings. Your child will lose the ability to install any new apps, but they will have a safe Internet experience.
Another option is to use an all-in-one system like the one offered by AVG Family Safety for iOS (free on iTunes). Not only does it block inappropriate sites, but you can customize which sites can be accessed if you own the desktop version of AVG Family Safety.
Guided Access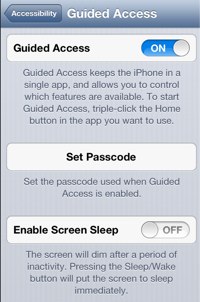 If the device is primarily not for your child and you have apps or other things you might not want them getting into, you can still easily let your child use it to access specific apps while keeping them out of anything else they shouldn't get into. Using Guided Access you can temporarily lock your iPhone or iPad into a single application as well as disabling areas of the screen or hardware buttons to keep the kids away from anything they shouldn't be into. To enable Guided Access, go to Settings > General > Accessibility > Guided Access.
Once you've enabled it, open the app you want to run and click the home button three times to start a Guided Access session. You can select any part of the screen you don't want your child to be able to click on—like an in-app purchase button—to disable them while you stay in Guided Access. To exit the application, click the home button three times and enter your passcode. Again, remember to make your passcode something the kids won't guess, or they'll have free access to your phone!
With a bit of work beforehand, there doesn't have to be any worry about your child getting into inappropriate content. So take some time to carefully configure parental controls before handing your child your iPhone.
---
---